BERLIN -- Broadband World Forum 2017 -- Having pitched itself as a software company and developed a software-defined access proposition, ADTRAN is now building a clear picture of how it is no longer just a provider of broadband access infrastructure but a supplier of a broader, cloud-based multivendor architecture that's fit for the next generation of network operators. (See Adtran: Desperately Seeking Software Status.)
ADTRAN has been banging the drum about Mosaic, its cloud platform that offers software-defined networking (SDN) control and broader network management for the access network, for more than a year, during which it has developed and added specific tools to the proposition and worked with its network operator customers to develop use cases. (See Adtran Pieces Together a Software-Defined Access Mosaic, ADTRAN's Mosaic Activate Paves Next Steps of Software Journey and Adtran Bows New Mosaic SDN Access Software.)
Here in Berlin this week, the ADTRAN team showed how it is working on a number of different projects with network operators that include the Mosaic Cloud Platform and various associated software tools (including multiple SDN controller variants) to introduce and manage NG-PON2, Gfast and XGS-PON deployments for telcos, plus a 10G EPON deployment for a large cable operator.
The common factor is that, no matter the access technology being deployed, the Mosaic Cloud Platform provided orchestration and management for the disaggregated access network (which could be multi-vendor) and worked with multiple SDN controllers, such as ONOS, Open Daylight and its own Mosaic controller.
That's just the kind of set-up that an increasing number of fixed access network operators are exploring as they migrate towards open architectures that are being informed by the likes of the Telecom Infra Project (TIP) and CORD (Central Office Re-architected as a Data Center).
Interestingly, the XGS-PON project also included the deployment of a VOLTHA tool for access hardware abstraction: VOLTHA, or Virtual Optical Line Termination Hardware Abstraction, is the open source tool being developed by the ONF (having been contributed by AT&T) that, in the words of ADTRAN's AVP of Carrier Strategy, Robert Conger, "makes any OLT look like an Ethernet switch to the SDN controller."
And it's these kinds of developments that have been attracting interest at ADTRAN's stand during this week's Broadband World Forum. The vendor's CTO for EMEA and APAC, Ronan Kelly, told UBB2020 that while operators are still interested in the access technology developments around Gfast and the various flavors of PON, the big areas of interest this week have been around SDN, wavelength mobility in an NG-PON2 architecture, the disaggregated OLT model -- "Last year visitors were learning... this year they know a lot more and are exploring in more depth," said Kelly -- and the virtual BNG.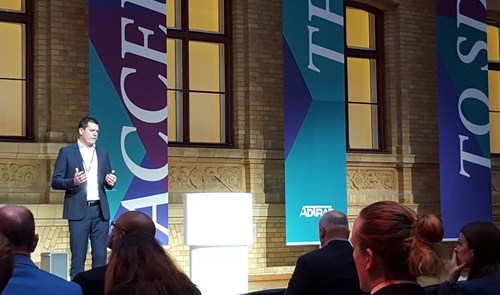 Virtual BNG (Broadband Network Gateway) development at ADTRAN comes in the guise of the vendor's Broadband Subscriber Management Suite, another part of the Mosaic offering. This provides multiple software components that act as a substitute for traditional BNG routers that are deployed at aggregation points around broadband access networks.
And it seems the Mosaic portfolio is still commanding much of ADTRAN's R&D resources, as the vendor's Director of Product Management Chris Thompson noted this week. He told a gathering of industry analysts and press that the company is looking at ways in which artificial intelligence (AI) tools can build upon existing SDN and NFV capabilities and help provide a way to manage the billions of connections that IoT expansion will bring to wide area networks.
ADTRAN is currently using some open source AI tools to look into how a chatbot utilizing natural language processing might serve as a "conversational interface into the network," and how machine learning might be able to predict, for example, how many NG-PON2 wavelengths might be needed to deliver customer bandwidth requirements.
Ultimately, Thompson hopes carriers might share information from their live production networks to inform the development and knowledge base of such machine learning tools, but he realizes it will "be very tough to get access to such information."
ADTRAN, which reported its third quarter financials last week, still faces something of an uphill climb to convince a market that knows the company for its access network hardware platforms that it is a "software company," but it's certainly going in the right direction to convince any doubters. (See Adtran Reports Rise in Q3 Revenues .)
Related posts:
— Ray Le Maistre, International Group Editor, Light Reading