Ultra HD video is the "killer application" for gigabit ultra-broadband services, according to the results of a poll conducted on UBB2020.
More than 100 readers responded to the poll -- 'Gigabit's Killer App' -- which asked: Which single application or service will drive the greatest demand for Gigabit broadband services?
Almost half of the respondents (nearly 49%) identified "ultra-high definition video" as the "killer app," while a further 26% selected "virtual reality," which has certainly become a lot more prominent in communications services circles during the past year. (See Broadband Future Looks Like Video, Photos: MBB Forum 2016 Tokyo, Day 1, Google's Dreaming of VR in September – Report and VTAB: Virtual Reality Picture Still Unclear.)
Other voting options in the poll attracted little support, with 5% selecting "real-time gaming" and another 5% choosing "managed smart home packages." A handful of voters opted for our joke option, "Pokemon Come Back (in development...)."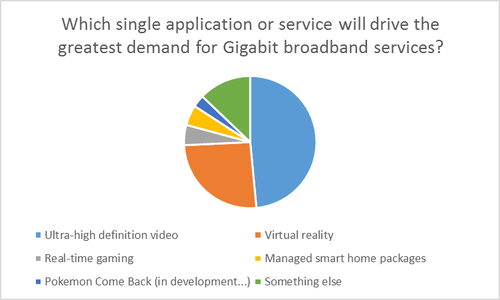 But nearly 13% of respondents opted for "something else" and used the message board to discuss other potential bandwidth-hungry applications, including smart cities and "cloud based personal computing... high quality personal computing, something similar to the VDI [virtual desktop infrastructure] experience."
You can still vote in the poll by clicking here.
And vote in the new poll -- SDN in the Access Network.
— Ray Le Maistre,

, Editor-in-Chief, Light Reading