AMSTERDAM -- Broadband World Forum 2019 -- The free speed tests consumers use when assessing broadband services are a constant headache for Stephen Rue, the boss of NBN Co, the state-backed operator charged with building Australia's wholesale network.
Australia regularly performs badly. Ookla, one of the best-known rankers, put the country in 59th place earlier this year, provoking anger and confusion within NBN. "We operate a network where two thirds of customers are on speeds of 50 Mbit/s or faster," said Rue during a presentation here in Amsterdam. "These tests create a false impression of a nation's speeds, which is a disincentive for customers to sign up to new broadband networks."
This may all seem like sour grapes from a company that has been repeatedly attacked for gobbling up taxpayer funds without delivering the world-class broadband service it originally promised. But Rue insists the methodologies used by Ookla and other speed testers are fundamentally flawed. Typical samples are not representative of the general population, neglect the share of homes without broadband access and ignore population and geographical factors affecting service costs and complexity, he says.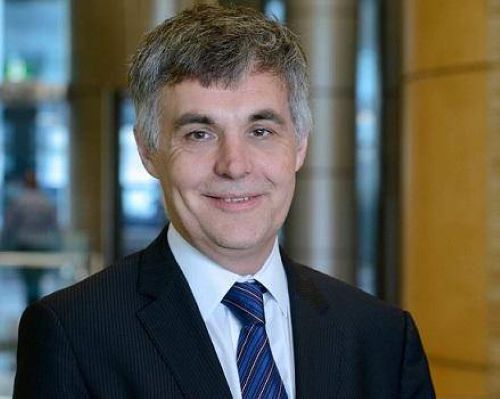 Hence NBN has today unveiled an alternative set of rankings developed in partnership with AlphaBeta, an advisory business with a strong presence in Australia. Unlike other researchers, it used representative and government-validated data, says NBN. It also took service availability into account.
Predictably enough, Australia comes out far better in the NBN-commissioned study, ranking 17th for average fixed-line broadband speeds. That puts its ahead of what Rue describes as "comparable nations," including Germany and France. Once NBN rollout is finished next year, AlphaBeta also predicts that Australia will climb to tenth in the rankings. By that stage, 50% of the network will be capable of gigabit speeds, says Rue.
None of this is likely to silence NBN's fiercest critics, who will undoubtedly slam the latest research as a self-serving exercise. When the NBN idea was originally floated under a previous government, the intention was to extend full-fiber networks to most Australian properties. After a subsequent administration balked at the likely expense, NBN embarked on a rollout using a mixture of access technologies. Just 17% of homes are being covered by fiber, with cable, copper, mobile and satellite networks serving the remainder. It does not sound like the most future-proof system.
Rue, nevertheless, insists a large part of the fixed network is already "gigabit capable" -- or close to that -- thanks to current investment activity. By June next year, on top of the 2 million homes with a full-fiber connection, there will 2.5 million on a hybrid fiber-coax service and a further 1.5 million benefiting from fiber links to distribution points near local premises (with copper used for the final drop).
But he acknowledges that additional investment may ultimately be needed. "Today we just have to finish the build and get to cashflow profitability, but we also have to see how consumer needs evolve and how technology evolves," he says during an interview with Light Reading. "At that point we will look to see how best to invest further in the network."
Rue also rejects criticism that funds could have been spent on more up-to-date technologies after NBN was estimated to have forked out roughly A$10 billion ($6.7 billion) on another 29,000 kilometers of copper. "The statement of expectations the government gave us in 2013 required us to roll out the network in the cheapest and fastest way to ensure everyone had access to high-speed broadband as soon as possible," he says. "That is why we ended up with what you refer to."
One of the most common complaints is that NBN continues to overcharge its retail customers and that its pricing is unsustainably expensive for the Australian broadband market. Yet NBN needs to have a big enough revenue stream to keep investing in the network, says Rue. "We have to ensure pricing delivers a good customer experience and that the industry is sustainable, but also that NBN is sustainable."
Prices are falling, he insisted during his presentation at the Amsterdam event, referring to another piece of AlphaBeta research commissioned earlier in the year. According to that study, Australia ranks seventh out of 22 countries on broadband affordability and its telecom prices have fallen 6% since 2000, despite a 63% increase in the overall cost of living. "We have seen a correlation between rollout and declines in real terms of the cost of telecom services," said Rue.
Again, critics will take issue with the methodology and its provenance, noting that it covers a long period when NBN was not providing services. It also appears to consider retail and wholesale prices for all manner of telecom services. With rampant levels of retail competition, smaller players that use the NBN infrastructure are being squeezed, they say.
In the mainstream Australian press, the number-one grumble is usually about the cost to the public sector. In 2013, the government expected the project to cost about A$25 billion ($16.8 billion). According to NBN's latest financial reports, it is now set to consume A$51 billion ($34.3 billion), including A$29.5 billion ($19.9 billion) in government equity, A$19.5 billion ($13.1 billion) in a government loan and A$2 billion ($1.4 billion) raised on the market. The budget is, however, in line with a corporate plan that NBN's management team drew up and published toward the end of the 2015 fiscal year, says Rue. That estimated costs of between A$46 billion ($31 billion) and A$56 billion ($37.7 billion).
NBN's biggest customers, and the operators it replaced in a wholesale role, have refused to keep quiet. In the last few days alone, Australian telco giant Telstra -- which had to sell infrastructure to NBN as part of the government's wholesale plan -- has argued that Australia would today have had a better broadband network at zero cost to the taxpayer if NBN had never happened.
"I don't focus on history," says Rue in response. "My job is to ensure that we complete the build and get to cashflow positive." Of the 10.2 million homes now passed, around 6.2 million are now taking services and the so-called "forced migration" will eventually drive this up to 75% in fixed-line areas, with factors such as vacant homes and no interest in broadband explaining the 25% gap. Australia might ultimately have a broadband network with a better reputation, but the negative publicity seems unlikely to end soon.
Related posts:
— Iain Morris, International Editor, Light Reading