Building all-fiber networks is an expensive business. Across the 50% of the UK market that is easiest to cover, telecom incumbent BT reckons the job costs £300-400 ($381-508) for every home it passes. That adds up to a bill of at least £3.75 billion ($4.76 billion). And the figure is likely to be much higher elsewhere.
Trouble is, there is no guarantee customers will sign up to these high-speed services. Data BT published in May shows the all-fiber network was available to nearly 1.25 million homes in March, up sharply from 567,000 a year earlier. Yet the number of all-fiber customers has risen just 137,000 over the same period, to 306,000. Content with their copper-based broadband, lots of people just aren't in the mood for an all-fiber switch.
The disparity between fiber availability and fiber take-up is even starker in data provided by the FTTH Council Europe, a trade association that preaches the virtues of fiber. Across the entire UK, around 2.82 million premises could access either a fiber-to-the-home or a fiber-to-the-building service in September last year. That is a dramatic increase on the 580,000 that were covered in September 2015. And yet customer numbers are up just 300,000 over this period, to 370,000.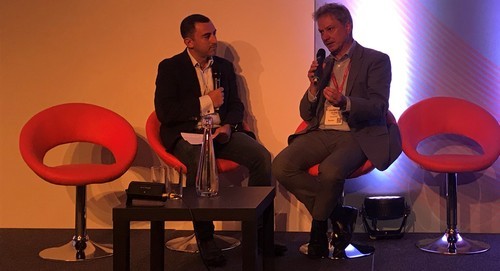 Persuading consumers to upgrade is a priority for BT and its wholesale customers. Backing out of fiber investments isn't an option. Worried about the huge fiber gap between the UK and other European countries, politicians and regulators are leaning heavily on BT. Boris Johnson, the UK's probable next prime minister, will only add to the pressure: He wants all-fiber networks everywhere by 2025 -- eight years sooner than the current target.
Infrastructure rivals are popping up, as well. Joining long-time cable rival Virgin Media are smaller companies such as CityFibre, Hyperoptic and Gigaclear, all promising faster speeds than BT currently offers. Take its foot off the gas and BT could lose customers or get broken up by the regulator, executives fear.
Instead, they have aimed higher. Some 4 million premises will be covered by March 2021, they say, up from an earlier target of 3 million. If conditions are right, BT says it will extend all-fiber networks to 15 million premises by 2025, having promised 10 million previously.
Staff are clearly uneasy about the prospect of unused all-fiber networks. "There is no point building a network if there is no one on it and so we are starting discussions and it is critical to work out a commercial framework with customers and ensure their customers are excited about full fiber," Catherine Colloms, the director of corporate affairs for BT's Openreach networks business, said at the recent Connected Britain event in central London.
The sentiment is echoed by Tristia Harrison, the CEO of TalkTalk, one of several broadband retailers that uses the Openreach network. "Collectively we need to think about take-up and a commercial framework for that," she said. A thorny issue is whether BT's wholesale products will satisfy customer demands on pricing and service levels. Forcing BT to further separate Openreach from the rest of its business would lead to improvements, the regulator hoped. But not everyone is convinced this recent "legal separation" went far enough.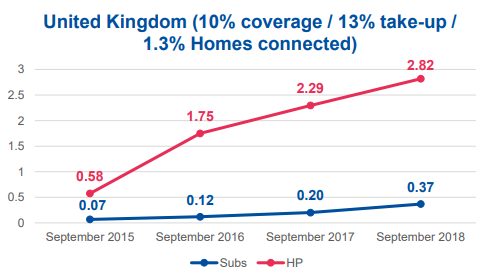 BT's priorities may be different from those of other Openreach customers. If it can shift customers onto fiber, it can think about retiring its old copper lines and saving money. TalkTalk worries that customers will resent a hard sell. Clive Selley, Openreach's CEO, is aware of that issue. "Retail service providers are concerned about vulnerable customers and how they are handheld through the migration process," he said at Connected Britain. "They have a set of practical operational concerns."
The chances of a revenue boost from this all-fiber migration look remote. History shows that prices do not rise in lockstep with connection speeds. Broadband competition was aggressive in the UK even before the emergence of new infrastructure rivals. CityFibre's mantra today is that it can offer faster services than BT for a lower fee. BT's average monthly revenue per fixed line has risen just 5.5% in the last two years, to £38.60 ($48.98), while the percentage of broadband users on fiber-based products has rocketed from 56% to nearly 74% over that period.
Politicians may be right to grumble about the UK's fiber lag. Without higher-speed fixed and mobile networks, UK productivity could suffer, especially if more advanced applications eventually demand that connectivity. But for the companies rolling out networks to apathetic consumers, it is hard to see the upside.
— Iain Morris, International Editor, Light Reading