The highly anticipated 2Africa subsea cable system is expanding even farther, adding four new branches to extend connectivity to the Seychelles, the Comoros Islands and Angola, as well as adding a new landing in southeast Nigeria.
The 2Africa consortium is made up of tech heavyweights and major telcos including Facebook, MTN GlobalConnect, Orange, Vodafone, China Mobile International, Saudi Telecom (stc), Telecom Egypt and WIOCC.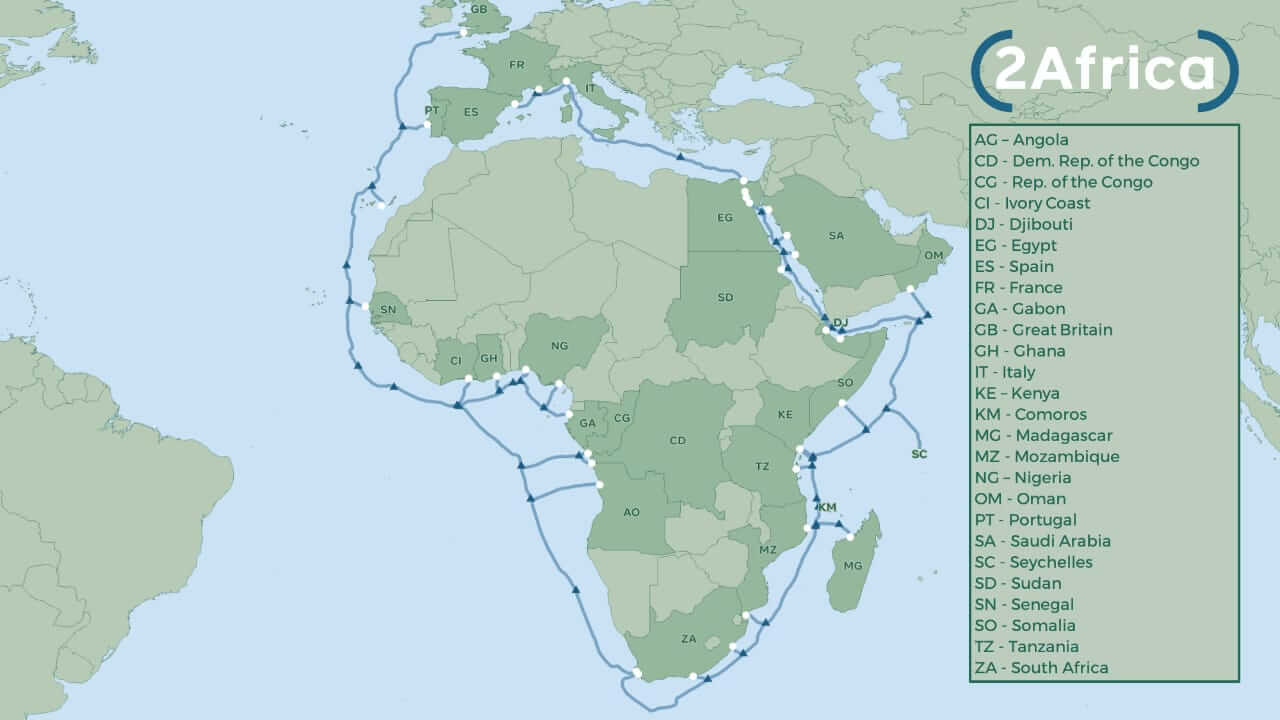 The group announced its original plan for the 37,000km long cable in May 2020, saying it would interconnect Europe (eastward via Egypt) and the Middle East (via Saudi Arabia) with 21 landings in 16 countries in Africa.
When it goes live in late 2023, 2Africa will be the largest subsea cable project in the world with promises to deliver faster, more reliable Internet service to each country where it lands.
Alcatel Submarine Networks (ASN), which is already building the system, has been selected to deploy the new branches as well. The new additions join the recently announced extension to the Canary Islands and will increase the number of 2Africa landings to 35 in 26 countries, further improving connectivity into and around Africa.
The consortium said that with other 2Africa cable landings, capacity will be available to service providers at carrier-neutral data centers or open-access cable landing stations on a fair and equitable basis.
In addition, the consortium said that considerable progress in planning and preparing has been made and most of the subsea route survey activity is now complete.
ASN has started manufacturing the cable and building repeater units in its factories in Calais and Greenwich to deploy the first segments in 2022.
One of 2Africa's key segments, the Egypt terrestrial crossing that interconnects landing sites on the Red and the Mediterranean Seas via two completely diverse terrestrial routes, has been completed ahead of schedule. A third diverse marine path will complement this segment via the Red Sea.
Undersea escapades
Facebook has its hand in a number of undersea cables and on Monday announced it would partner with Google and PLDT to build the Apricot subsea cable system – connecting Japan, Taiwan, Guam, the Philippines, Indonesia and Singapore.
The Apricot cable will span 12,000km and when linked up to 2Africa would have the potential to link African countries to Asian peers.
Silicon Valley's biggest companies are aiming to meet growing demand in Africa and Asia for 5G connectivity and broadband, by boosting investment in the regions with the greatest potential for growth.
Between them, Facebook and Google owner Alphabet are behind about four-fifths of investments at the moment in transatlantic data connections.
Altogether, there are about 400 subsea cables globally, which are responsible for nearly all the voice and Internet connections between countries.
— Paula Gilbert, Editor, Connecting Africa, with additional reporting by Pádraig Belton
A version of this story first appeared on Connecting Africa.