BBWN Bites: NTIA Keeps Pilot Broadband Map to Itself
Also today, Australia considers giving NBN penalties to the people, BT conquers Spanish government's contract, Prince Edwards Isle helps ISPs and Brits flunk cheesy broadband quiz.
Hey, the US has an updated broadband map, we hear -- but the public is not allowed to see it. On October 2, the National Telecommunications & Information Administration said it'll pilot to "test the map's functionality and expand it to other states." Congress told NTIA to create a new version of the "National Broadband Availability Map," and allotted funds for the map (which NTIA refers to as a geographic information system "platform for the visualization and comparison" of data sets). Here's a graphic of states that participated in the pilot of the secret map. (See Why Did FCC Kill NTIA's Broadband Map?)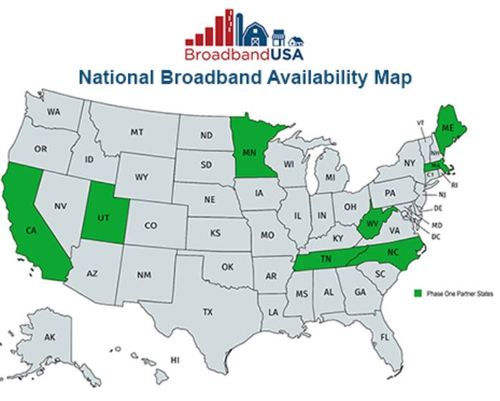 Currently, if NBN Co.'s wholesale network is congested and performance suffers or a rep misses an appointment with an end-customer, the Australian operator pays a rebate (a.k.a. a penalty fee) to the service provider that connects the subscriber to NBN's infrastructure. But a rule now under consideration would give that rebate directly to the subscriber, according to the Australian Competition and Consumer Commission (ACCC). "We have heard long-standing concerns from consumers about how frustrating, inconvenient and costly these issues can be," ACCC chair Rod Sims said, according to a Light Reading article. Indeed. (See NBN faces penalties but deeper issues can't be fixed.)
The Spanish government chose BT to upgrade its worldwide network, signing a €39.97 million ($43.81 million), three-year contract to connect Spain's embassies, consulates and trade offices. Along with traditional corporate buildings, the deal includes a polar research station in Antarctica and satellite-based connections to ten scientific research ships traveling around the Mediterranean Sea and Atlantic Ocean.
Prince Edward Isle's government plans to invest $10 million in the PEI Broadband Fund (PEIBF) over the next five years, and is now accepting applications from ISPs for projects the group approves. ISPs can apply for up to 50% of eligible costs of installation of infrastructure to enhance broadband services, the Journal Pioneer reported. More information and applications are available here.
Growing up in Derbyshire, it wasn't uncommon to hear that Brits cared for animals more than people. That doesn't seem to be the case anymore -- and don't even think about taking away their broadband, according to yet another dumb survey asking folks to chime in on "hat's more important than broadband?" In this case, half of Brits surveyed said decent broadband was more important than their life partner; 70% put broadband over Fluffy the Cat, Dudley the Dog or Harry Hamster. Thanks for that bit of news, TalkTalk.
Related posts:
— Alison Diana, Editor, Broadband World News. Follow us on Twitter or @alisoncdiana.
The Entra EN9000, a node based on SCTE standards for the Generic Access Platform, will be ready for lab tests in 1H 2022. GAP nodes will enable MSOs to snap in service modules for HFC, PON and wireless access services.
Comcast says it has tested a 'network to modem' connection of DOCSIS 4.0 technology that had its virtual CMTS speaking to a DOCSIS cable modem configured to operate in the Full Duplex DOCSIS (FDX) band.
With a near-term focus on integration, Comcast engineering exec Rob Howald says the operator's virtual CMTS now 'speaks' DOCSIS 4.0 as the company pushes ahead with deployments of a distributed access architecture.
RDOF bids spanning another 42 providers across 21 states were included in a second wave of funding authorization tied to phase I of the FCC's program.
Facebook Connectivity provided updates on a set of projects, including the deployment of subsea cables, its 'Bombyx' fiber-building robot and Terragraph, a fixed wireless system that uses unlicensed millimeter wave spectrum.
All resources
Wednesday, October 6, 2021
11:00 a.m. New York / 4:00 p.m. London
The demand for high-speed broadband services and hyperconnectivity has driven massive surges in network data usage like never before. Due to this trend, the networks of communications service providers (CSPs) are increasingly overburdened. Service providers need to optimize their networks to scale service delivery efficiently, while maximizing the opportunity to innovate at a rapid pace.
Learn how cloud-native containerized solutions can position CSP networks for long-term evolution and sustainable growth. Hear practical steps and flexible options for implementing a cloud-native PON solution in your network. Discover how to maximize operational resources and make way for enhanced applications, innovations and new use cases.
Topics to be covered include:
Microservices
Containerization
How to implement cloud-native containerized PON
The convergence of fiber and mobile networks